When your baby turns to toddler and they're not nursing anymore, it starts to become really nerve racking to try to get them all the nutrients you know they need. Did I get him enough protein? He played harder today, so did he get enough nutrients? What about minerals? Does he need minerals? It's a lot right? And you don't want to do something wrong because you know their little growing bodies need so much. This is why I knew I wanted to try a toddler formula. I'm going to share my comprehensive Aussie Bubs™ toddler formula review to give you insight into the product before trying it! (This is my honest review and while I am being paid for this blog post, all the words and opinions are my own.)
Aussie Bubs™ Toddler Goat Milk Formula Review
I love that Aussie Bubs™ has a goat milk option! While we don't have any allergies to dairy in our home, I know that dairy sensitivities are common for babies and toddlers. Exclusively formulated for toddlers 12–36 months, Aussie Bubs™ Australian goat milk-based toddler formula supports easy digestion. The world's only formula made with the goodness of natural Australian goat milk. As we are looking for farm fresh goodness in other aspects of our life and nutrition, why wouldn't we be doing the same for our kids' formula?
What's in it?
Toddlers are just little adults and they need all the nutrients we need. Let's be honest, as adults, we're probably not getting all the vitamins and minerals we need on a daily basis. I know, for myself, some days I do great and other days I totally miss the mark. With DHA, Prebiotics, Vitamins and Minerals to support your toddler's growth and development, my Aussie Bubs™ toddler formula review is nothing but positive. They have developed the world's only formula made with natural Australian goat milk. The unique composition of goat milk makes it naturally gentle and easy to digest, ideal for sensitive tummies.
Real Quality Ingredients
Goat milk is like nothing else. It's so much easier to digest and there's a good reason why! The unique structure of the proteins and fats found in goat milk result in softer casein curds. This makes it easier for little bodies to break down and digest. Less digesting provides quick access to abundant nutrients without additional stress on your toddler's digestive system. Does anyone else have toddlers with sensitive tummies?
Sourcing You Can Trust
Aussie Bubs premium formula is made with natural Australian goat milk, which naturally contains A2 Goat Protein. We've also added DHA, Prebiotics, Vitamins and Minerals to support growth and development of toddlers. Their formulas have also been independently tested for purity and have received the Clean Label Project Purity Award. This evidence-based verification gives parents peace of mind in knowing that your toddler is obtaining pure nutrition free from heavy metals, pesticide residues, plasticizers and other chemicals and toxins.
Made with Healthy Fats
Why do our littles need DHA? DHA is responsible for brain growth and the protection of existing brain cells. This is something that you want to have in your toddler's diet every single day, but as we know, feeding a toddler can be difficult. Letting my son mix up a cup of his own Aussie Bubs™ toddler formula allows him to get those nutrients without the struggle. DHA is responsible for allowing kids to learn and remember what they're learning, so it's extremely important that they get all those nutrients when their brains are developing. DHA actually accumulates in the brain, so the earlier your toddler starts getting it in their system, the better!
What's A2 Milk Protein?
A2 milk proteins come specifically from cows (or goats in the case of this toddler formula) that have been bred to not produce the A1 beta-casein protein, a form of the casein protein in milk that has been known to cause tummy issues for more sensitive tummies. This would be perfect for toddlers with reflux, constipation, diarrhea or even just gas after ingesting regular formula or milk. Studies show that 65% of the global population is lactose intolerant, so if you notice a sensitivity with your munchkin, I highly recommend consulting your doctor about trying Aussie Bubs™ goat milk toddler formula.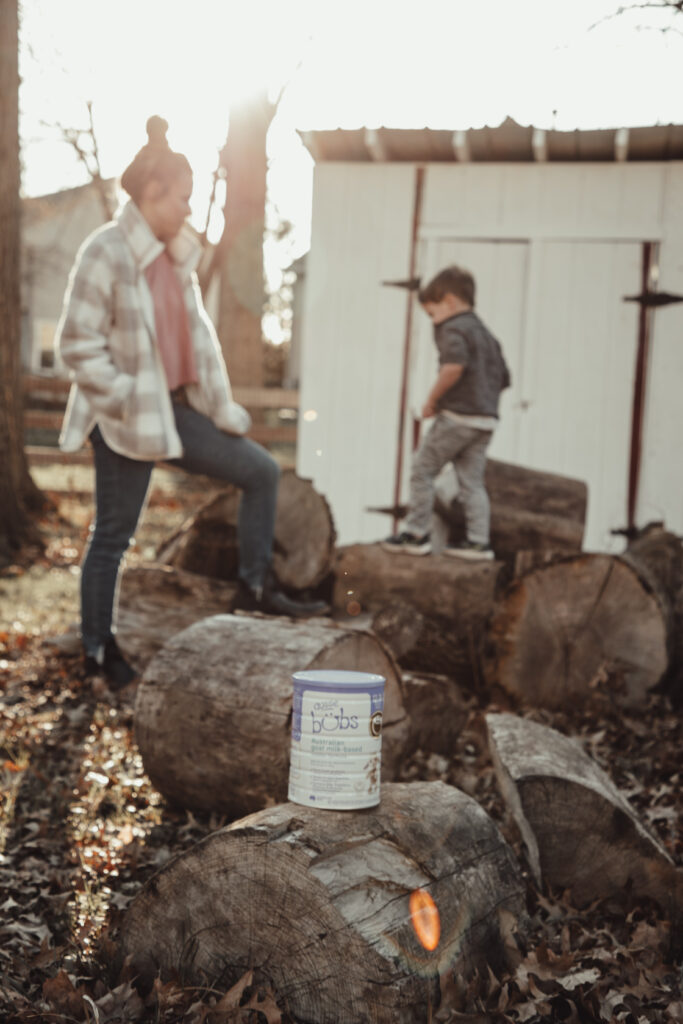 My Honest Aussie Bubs™ Toddler Formula Review
I am so thankful to have been given the opportunity to give my Aussie Bubs™ toddler formula review for you all. I know nutrition is of utmost importance to you, not only for yourself, but for your family. You are the gatekeeper for your family's products & this is a decision you can feel good about making. If you'd like to learn more about Aussie Bubs™ straight from the source, you can go to their website. If you're ready to order, you can find it on Walmart.com or on their website directly.