Taking advantage of affiliate link programs like Liketoknow.it (formerly RewardStyle + LTK) is one of the many ways to monetize your influence through blog posts and instagram. In fact, many bloggers point to this platform as their main source of affiliate link income. When you have an audience that trusts your opinion, you are sitting on a gold mine of affiliate sales through LTK! It gives you a lot of flexibility with how you bring in sales because you can use these links anywhere – blog posts, social posts, swipe ups, social bios, or even share directly with friends and family!
It is such a great resource because it gives me the ability to make commission from big brands like Etsy, Walmart, GAP, Amazon, and Target. Feel like shopping at any of those places I just mentioned? If you click one of those links and shop, I make a small commission at no extra cost to you. SO COOL right?? LiketoKnowit can be really confusing at first & definitely comes with a bit of a learning curve. But once you get the hang of it, it is actually pretty easy to use! I'm here to help you skip over that learning curve and get started posting today! So how can I make money on Liketoknow.it even if I'm a newbie blogger or influencer?
5 Steps to Make Money on LiketoKnow.it
STEP 1: GET ON THE PLATFORM
First and foremost, you have to be invited to join the platform. Get invited to the platform by reaching out to another creator. Look for the small Liketoknowit symbol in the corner of someone's post & then simply reach out by DM or the email in their bio. According to Liketoknowit, "LTK Creators are defined by their quality of production, consistency of publishing, shoppability of content, and strength of shopper engagement." Get accepted as a LiketoKnowit influencer. This can take up to two weeks or more. If you can't find anyone, just email me and I'm happy to nominate you: lovedbykait@gmail.com Keep in mind, if you have already applied to be a liketoknow.it creator, my nomination won't do anything extra for you. My nomination only helps you if you have not applied yet!
Also note that it can sometimes take a few times applying to actually get accepted, so if you get denied don't worry about it. Go create some more high quality content and then come back and apply again. It is recommended that you have 3+ months worth of quality content that is actually linkable before applying. This makes your chances of getting accepted even higher. Sometimes it can seem annoying that they're so particular with who they accept, but it's actually reat for you as a creator because it means that the market is less saturated.
STEP 2: SAY HELLO ON THE LIKETOKNOW.IT APP
Download the LiketoKnowit app from the app store. Create your account or login, and then set up your profile. Use an eye-catching, product-focused profile picture and header image to draw viewers in. In your bio, make sure to list information that's relevant to your audience: what types of products you share, your style/aesthetic, or even what sizes you typically wear. This bio is not like your Instagram bio – use this space to your advantage and give shoppers a reason to follow you!
In order to get more people to follow you, you'll want to work on your engagement and level of trust with your followers on all other platforms. A large following on the actual LTK app is not necessary to make a good income, though. It does make it easier for those who follow in the app, but that doesn't mean that your loyal audience can't shop without following you in-app. Does that make sense?
STEP 3: FOLLOW OTHER LTK CREATORS FOR INSPIRATION

Inspiration Examples
These are some of my favorite accounts to gain inspiration from:
https://www.shopltk.com/explore/KRISTAHORTON
https://www.shopltk.com/explore/mindfullygray
https://www.shopltk.com/explore/jenmiracle
https://www.shopltk.com/explore/paigewright__
https://www.shopltk.com/explore/stangandco
4 Types of Posts to Make on the App
Digital collages
Tag photos of yourself or your home
Screenshot things you like
Download a story that originally had a swipe up & display a side by side with an image of the product
Do a mix of everything!

Not only will following other influencers provide great inspiration: you'll need to start building your follower base on Liketoknowit, and these people might follow you back.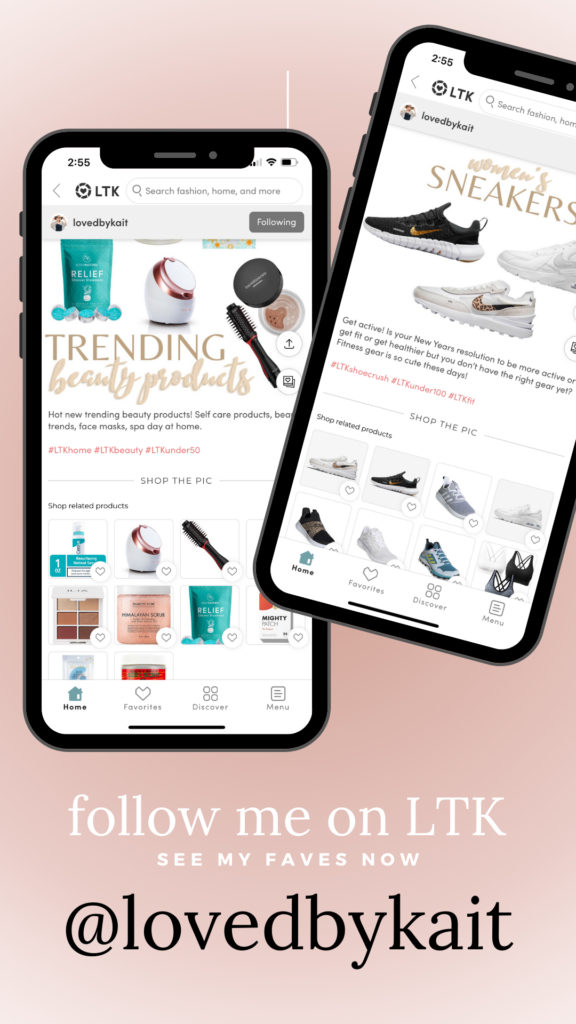 STEP 4: YOUR FIRST LIKETOKNOWIT POST
Before posting, you'll need to make sure you can tag your items for purchase! Link Ninja™ is an amazing tool inside the Liketoknowit app where you can link products directly or share affiliate links for blog posts and social media. Click here for a full tutorial on Link Ninja™. Add products to your favorites & you're ready to post. Go to the Liketoknowit app, upload your photo, tag your products, and voila! Your first LTK post is up.

Now, we need to capitalize on this post & put this content everywhere. Let's be re-purposing queens and work smarter, not harder by using this content in every way that we can. That means getting posts up on all social platforms & using each platform to its full advantage. For example, for Instagram, you want to post in feed & on stories or maybe post esach individual product on stories instead of just the singular post. There are many ways to do it and I'll talk more about that in my upcoming LTK Workflow post.
STEP 5: GROW GROW GROW!
For optimal success, you want to be posting at least 3x a day, usually more. Keywords are important so people can find you! This platform is SEO heavy. Also, keep track of your stats. The heart icon under a photo means someone saved your post in the app, the envelope icon means someone got an email reminder that they saved your item, and the purse icon means someone bought an item. Your followers will get push notifications when you're active on the app, so follower number is important! Increase your follower number as quickly as possible to take advantage of these push notifications – let the app do the work for you
Now you're ready to make your first dollar in affiliate sales! Remember, affiliate sales is a slow burn & doesn't become successful overnight, but with consistency, this could become a large part of your income on social media.
So How Does It Work?
What is an affiliate link?
An affiliate link so a link to a product that you love that has a tracking code in it. When you share that link with your audience, your code is embedded linking that product to you. When your follower or friend or family member clicks on on that link and purchases the product, you make a small commission at no extra cost to them. Affiliate links aren't only used by influencers though. Basically every single time you search for something and an article comes up, that article will have embedded affiliate links inside allowing the writer of the article to make money on that post.
What if they don't buy?
If your follower clicks your link, but they don't buy, there is a certain cookie window for most affiliate websites. A cookie window means that if someone comes back and wants to buy that item, but the go directly to the website to purchase instead of through your link, you will still make the commission from it. Some websites have no cookie window and some have a cookie window as long as 180 days. That means that if someone clicks on your link and then 179 days later comes back and wants to buy it, but they go directly to the website, you still make that commission. Liketoknowit does not have a long affiliate window, so it is to your benefit with affiliate sales to connect with certain brands directly.
Then why do people like Liketoknow.it?
People choose to use liketoknowit because it keeps their affiliate sales in one place. They also have one of the largest list of retailers available to link. It is also very easy to use and they pay out at every $100 in sales. LTK is also it's own app, which is like a totally shoppable feed. Imagine everything you see on Instagram being available for purchase. That's what LTK is. Go download the app and check it out from a shopper's perspective to learn exacctly what you should be posting!
What if they don't buy the exact item?
Great question! If you share a link for shoes on amazon, but they find a shirt they like, you can still make the commission. They just have to use your link to get them to the page in the first place and they have to place their order within a certain window of time. Each individual retailer has different windows in which the purchase has to be made. For amazon, it used to be 5 minutes. For other retailers, it is longer. So for example if someone clicks your link and then shops around, fills their cart, then goes to eat lunch and comes back to check out, you do not get the credit for that.
Does it cost them extra to shop through my liketoknow.it link?
No. The retailer has a partnership with liketoknow.it in order to increase sales on their website. So the retailer actually agrees on a commission percentage with liketoknow.it and then liketoknow.it acts as the middle man and pays you. Sometimes, LTK actually has special sales and promos within the app, so it's to your benefit to get them to download and follow you in the actual LTK app.
My Favorite Features
My favorite feature on Liketoknow.it is the Shop the Post feature. This is a code that you can embed into a blog post or website that looks chic and sleek and it gives them a direct link to your favorite items. I have given an example below of my favorites:

Where to go next!
Once you've started strong on Liketoknow.it, learn how you can promote your affiliate links through a compelling tiktok video on this post!
Ready to turn social media into a side hustle or full time job? Learn other ways to make money as an influencer besides sponsored posts or using liketoknow.it!