If you haven't noticed already, LikeToKnow.It has now rebranded as LTK. This name change also ushered in many updates and additions to the interface, features, and function of the app. LTK's CEO explained recently that shoppers want more "authenticity, convenience, and efficiency." They can find these things by shopping through the LTK app, which is great news for you as an LTK Creator!
Why Should I Be Using LTK?
If you're an influencer, it's right there in the name: you hold influence with your audience. And girl, you have great taste! Everyone shops, and so you have the opportunity to turn your followers into shoppers. LTK lets your followers keep all their shopping in one place while also following their favorite creators for recommendations. The company's CEO recommends you think of your virtual shop as your "flagship store." Let's not beat around the bush – your personalized recommendations earn you commission. Check out my guide on monetizing your LTK profile. This "creator-guided" mode of shopping is not going anywhere anytime soon.
What Changed When LTK Changed Its Name?
New features have been added frequently since the launch of the new branding. For example, the auto-follow feature. If someone taps on your shop on social media, they'll automatically start following you. This update is awesome for new creators with a low follower count. Also new are price-drop notifications. When certain retailers put items on sale, your followers will receive a notification: benefitting both you and your shoppers! It also recently improved their search features, added homescreen badges for missed posts, and promises more great things to come.
How Can I Take Advantage of These New Features?
Post your LTK links everywhere! In your Instagram bio, on stories, and on all of your blog posts. Remember, if someone clicks on your link from a social media platform they'll automatically become your follower. Keep an eye on sales & price drops and share these events with your followers to increase your conversion rate. As always, use specific and targeted keywords in your posts and post consistently. Practicing these things will surely help your influence grow!
Ready to turn social media into a side hustle or full time job? Learn other ways to make money as an influencer besides sponsored posts!

So What's Next?
LTK will continue to add new features as they continue to build their brand. Are you an LTK creator? Check out my post on how to grow on the platform! If you're not already on LTK, send me an email at lovedbykait@gmail.com and I'll be happy to refer you.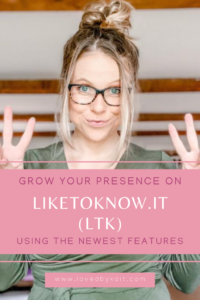 Save this to your Pinterest board!