When I saw those two pink lines for baby number three, I knew that this time around I was going to be on team green. That means I was going to need an adorable gender neutral nursery that I would be able to add feminine or masculine touches to as soon as I knew the gender! I compiled this list of gender neutral themes for your nursery while I was doing my research. Knowing that we weren't going to find out the gender on any of my ultrasounds was so hard, but so worth it!!
My Gender Neutral Nursery
Neutral nurseries aren't only for people who are staying on "team green" til baby is born. They are actually very on trend right now! A major plus is that you can use the same furniture or take pieces for future children as well. Because of this trend, you're able to not only save money, but also design without sticking to pink and blue gender norms. I don't know about you but I love a good neutral! "Designing a gender-neutral nursery means stepping away from societal norms of what a baby girl or boy's nursery should be — breaking down those stereotypical ideas that generally apply when creating boys vs. girls rooms," says Dina Bandman of Dina Bandman Interiors.
Gender neutral themes for your nursery allows the room to be a little more adult in nature as well. That allows the room to grow with the child as they get older without constantly having to redecorate. I remember when I was younger, the "theme" of my bedroom changed 5-6 times and that means paint color, all decor, bedspread and more! Talk about expensive. Let's design with the future in mind to be not only more sustainable, but also to save money. We personally decided to spend more money on a quality crib and dresser set when we were pregnant with our first, knowing that we were going to use it with subsequent children.
Color Palette
Gender neutral nursery ideas are kind of hard to come by because most of them have a masculine feel. We tried to choose something soft enough that we could add in girly tones if baby ended up being a girl. Thank goodness we did because she was, in fact, a girl! I've done gender neutral nursery decor for two out of my three nurseries though, and I'm so glad I did. They have grown with baby so well!
Also, think about it, baby really isn't even going to "enjoy" or know the theme of their nursery for many years. You're the one who has to spend countless hours in there rocking, soothing and being with the baby. Create a peaceful oasis for yourself! Studies show that if you are in a peaceful environment with lower stress, you actually have improved mental health.
Some of our favorite nursery colors that we were thinking about using were:
Bunny Gray (Benjamin Moore)
Smoke (Benjamine Moore)
Snow White (Benjamin Moore)
Iron Ore (Sherwin Williams) – We have actually used this color in other spots in our home and love it
Olde World Gold (Sherwin Williams)
We ended up choosing the color Easy Green from Sherwin Williams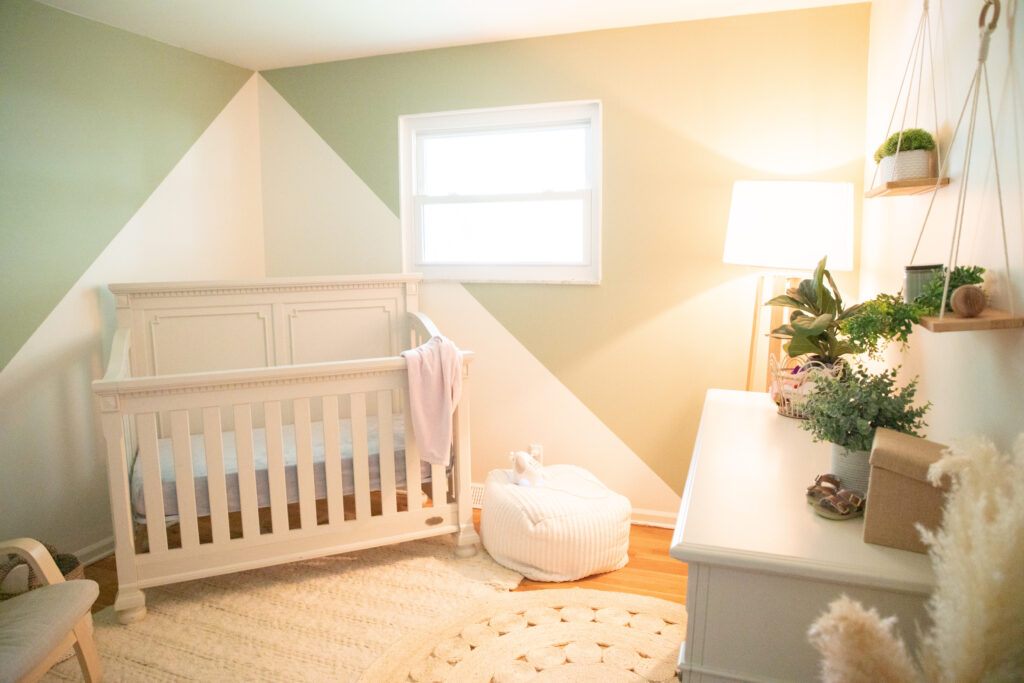 If we hadn't decided on this gender neutral nursery theme, we would have gone with one of the below theme ideas.
Nature Gender Neutral Themes for Nursery
Surf's Up: Take inspiration from California with Volkswagon vans, waves and more for this theme. You can even pull in some pampas grass and get a real surfboard. How cute would it be to have a surfing mural or a wave mural with some driftwood elements.
Botanicals: Frame leaves for starters bring in a bit of girly by framing flower prints. Use an old round mirror and clue actual leaves around the edges to give an immersed feeling.
Woodlands: Imagine pine cones, a pine tree mural and black and white boho designs mixed in! You can even go as far as making an accent wall covered in planked wood. If you don't want to go to that trouble or you're in a rental, you can get a similar look by choosing wood furniture and a darker rocker along with wooden frames for any art.
Earthy Baby: Bring in deep dark tones like auburn, navy, earthy green and medium/dark brown leather. Add plushy elements with a cozy sheep skin or pouf to make it feel more baby-friendly.
Midnight Moon: For this theme, I'd have a dusty gray or even paint the ceiling with deep midnight colors! Now that's a theme that would make a statement. Tip: Use paint splatter as stars.
Modern World: Adventure: Grab a vintage map or even a full map wall mural to make this room stand out. Use safari animals or natural crates to fill in the "travel" portion of this gender neutral nursery theme!
Southwestern: Use native Southwestern patterns and colors to make a cozy Arizonan vibe. The Southwestern prints are so trendy right now and the deeper muted colors are so cozy.
Sandy Tan Dream: Tan walls, natural wood furniture and ivory plushies all around. This is the perfect true neutral vibe for your gender neutral nursery theme.
Sunshine: Light and bright with pops of yellow. Bring in different yellow tones to make it more chic: mustard, bright yellow and even some deep golds.
Flower Field: Rainbow flowers can absolutely be gender neutral! Or if you want to keep it even more neutral, choose one type of flower like a sunflower or dandelion. Dandelion wishes would be an adorable soft theme.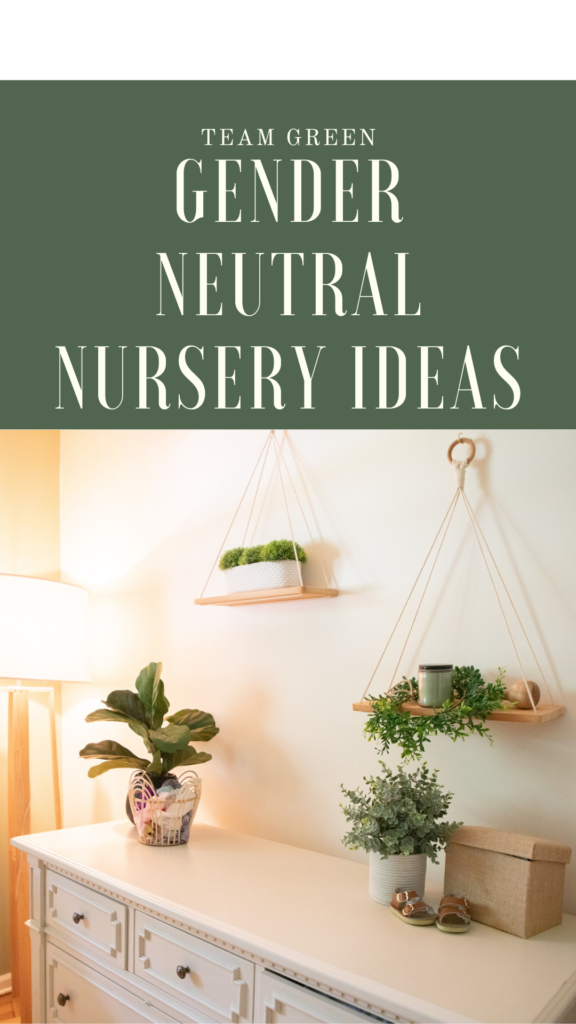 Animals as Inspiration
Disney Character: Choose any gender neutral nursery character from Disney and stick with neutral colors to make it fit for a boy or a girl. An example of some gender neutral Disney ideas are: Pooh Bear, Simba, Dumbo, Bambi, Nemo. Nothing says childhood like Disney characters and you can even make it nostalgic and use your personal favorite character.
Your Favorite Animal Theme: Stick with one animal and go with that theme! What's your favorite animal? Giraffe? Elephant? Get a large one from etsy, they have basically everything!
Jungle Adventure: This could include all of your favorite tropical plants along with some boho elements. Bring in the tans and leafy plants paired with boho neutrals and a pop of shamrock green on the wall! That's exactly the theme we went for in Grayson's nursery.
Baby Farm Animals: Think baby farm animals like baby cows, ducks, bunnies, and piggies. Keep the walls neutral with one of the colors above and go for a super soft palette with grays, tans and photos of farm animals.

Food Related Gender Neutral Nursery Themes
Ice Cream Social: This would be so cute! Use pastels and ice cream decals in blue, pink and green for your team green baby. Then when baby arrives, you can add in more blue or pink if you see fit. The perfect Gender Neutral nursery theme idea for the ice cream loving parents.
Fruity Sophistication: Imagine lemons, oranges and other citrus for the theme of this room. We actually had this theme for our daughter's first birthday party. I'll see if I can dig up a photo for you!
Circus Peanuts: Take your little one to the big top with red and white stripes and circus animals. You could go modern or super vintage with this theme, it really depends on what you're looking for!
Elegant Eatery: Imagine little white chef's hats, black and white chef tools along with a monochrome kitchen play set. This would be adorable and would grow with baby too!
Minty Fresh: Choose any pattern you like with a mint tone. You can use mint all over or paint the walls white and then add mint in the curtains, wall art and crib sheet. When baby is born, add peaches and corals or navy.
Other Gender Neutral Themes for Nursery
Polkadots: Choose three different colors from a color family and then put polkadots all over the accent wall behind the crib. You don't even have to paint them, you can use these faux water color peel and stick dots to make the look you want!
iSpy theme: Grab vintage pieces from your local antique shop to fill shelves with golden animals, vintage letter blocks, vintage games or game pieces and more. As a result, you'll bring in those nostalgic tones that we used to love as kids. Bring in the vintage cozy colors with other vintage prints like these or even pull darks for the rug color.
Gilded Dream: Nothing more royal for your little one than gold and white. Paint the walls white and stick with natural wood colors, but add accents of gold everywhere. You can even get sticky gold flecks for your wall as wall decals! Pro tip: Grab old toys from a yard sale or thrift store and spray paint them gold for affordable decor that fits your theme.
Bright and Soft: White walls, white crib, white or gray chair and clouds everywhere! Imagine clouds on the walls and a cloudy mobile. How sweet and peaceful does that sound? This is a great theme if you don't want to incorporate gender norms like lots of pink or blue.
Geometric: There are so many beautiful wallpapers now that are modern and trendy! Go to a website like Walls Need Love and grab something you love. Use shapes as your inspiration for this nursery. You can see in my nursery above, I chose to use a triangle and it turned out great! It doesn't have to be something SO "themey" to be a cute gender neutral theme for your nursery.
Colorful Gender Neutral Themes for Nursery
Vintage Rainbow: Go with a trendy monochrome rainbow to hit those rainbow notes, but still themed rainbow.
Modern Rainbow: Just because we're going gender neutral doesn't mean we have to use all neutral colors! Let's use a modern rainbow of bright or neon colors! Imagine some of the fun colors from our childhood, but modernized. Don't stick with primary colors, instead go with the neon version of those colors. Consider a pom pom garland, bright neon animal sketches or a rainbow pennant.
Just because you're making a nursery doesn't mean that the colors always have to be faded or pastel. You can absolutely use neon! To do this well, first choose one item that has lots of colors that you really love, then pick out 2-3 colors to pull in other elements. For example, if you have a rainbow rug you'd like to use, you could pull the blue for the curtains and the yellow for your rocker or some art prints! Get creative and have fun with it.
Beachy: Pastel beach theme is so cute for a gender neutral nursery which allows you to be colorful as a result. Imagine the pastel beach houses or photos of waves and pampas grass. This is great for a beach loving family who doesn't want to go all in on beach decor in the main house.
Southern Cottage: You know those beautiful blue vintage pottery pieces that your grandmother had that makes you think of a southern tea party? How about that for a nursery theme? Grab a vintage looking bedsheet and do blue accents everywhere. This could go boy or girl!
Nursery Nook: If you don't have a lot of space in your home, you can absolutely make due with what you have. Make a nursery nook in your bedroom with a smaller crib, a little hanging mobile or light fixture and some sweet plushies. Add a rocker if you have room, but if not, you can also nurse on your bed! You can make it work and be cute at the same time and save money in the process.
Tree of Knowledge: Books on books on books! This would be a great theme for a reader. You can even take it literally and put a tree decal up behind your floating shelves where you keep your books!

Nursery Styles
Instead of going for a complete theme, some have even gone on to just decorate the nursery as they would any other room in their home. Here are a few examples:
Modern Farmhouse: Use blacks and white with pops of green plants. This can meld with your house perfectly and will grow with baby as they get older. Not only that, but if it's already your style, it'll help you feel like you're right at home when you're spending hours in there nursing and cuddling baby.
Modern: Think sleek lines, ikea furniture with lots of whites and raw natural pine tones. Bring in any elements that you may want to see like pom pom garland after baby is born and you know the gender.
Scandinavian: Think of lots of beautiful clean lines, pine, more "woodsy" feeling but not in a dark kind of way. As a result, this would be the perfect clean cozy nursery. You can even incorporate some black and white patterns to make it pop. Soft white curtains and a neutral rocker completes the look with a white faux fur throw.
Graphic Design: Create a word wall or use the ABCs to go all over the wall in a graphic designer's dream!
Monochrome Modern: Choose green or another gender neutral color and then paint multiple things in the room different tones of that shade. Light green, dark green, medium green, etc. This will give you a unique look that you can build on when baby comes!

Creating the perfect space to bring your baby home to is one of the most personal, fun experiences of being pregnant. It can take an entire pregnancy to get it exactly where you want it to be, so don't wait to get started! One of my favorite things to do when I was pregnant was to go sit in a complete nursery and just imagine my baby in there, imagine nursing her/him and visualize how perfect those moments would be.
I always like to try to complete the nursery by the third trimester so that I can really focus on the birth ahead of me, but sometimes that doesn't happen! Remember, if you can't afford an expensive nursery, it's really the most important thing to give your baby the best love you possibly can. Things don't last forever, but your love for your baby will. Just take it one day at a time and don't let it overwhelm you.
Where to head next?
Pregnancy Supplements I Recommend
10 Easy Tips for a Healthy Pregnancy and Baby
How to Prevent Stretch Marks in Pregnancy & Beyond