When you purchase a home, it's one of those things that you buy with the final product in mind. You don't think about all the steps that it takes to get you to your dream farmhouse kitchen renovation just right or to get your perfect statement front porch. I want to share all the things I've learned with you so that you can know exactly what it looks like going in and taking on the project of renovating your own home with confidence.
Everyone loves the idea of having the exact house that they've always dreamed of right? Yeah, obviously. Less people are actually interested in a full home renovation of an old home to make it their dream home. And then even less people know the know how to make the changes they want to get that dream farmhouse kitchen. Read my full post on why we chose minimal farmhouse decor here!
Let me first say, choose your contractor wisely. Make sure he or she is responsive and has your best interest at heart and is very honest. You can go through lots of online services or ask friends and family for recommendations so that you feel safe. I say this because we had multiple situations where our contractor could have cheated us and he didn't. They're using your money, budgeting your expenses and could sneak money out anywhere they wanted. Believe me, when the receipts start flying, you want to have that trusting feeling in your gut, not one that feels like you've been cheated.
Okay, now on to my list! This is a two, maybe even three part post because there are so many things that I learned that I think would help any of you who plan to do some type of home renovations, big or small.

14 Things I Learned While Renovating My Dream Home (Including a Farmhouse Kitchen)
Confide in a small amount of people, don't ask everyone their opinions. It'll just confuse you. Confide in a friend or family member who has similar taste to you and actually give them the details of the look you're going for. Don't just ask an opinion. You need to give them a little lead up such as "I'm going for a farmhouse kitchen renovation. I am planning on having all white cabinets and counters, which light pendants do you think go best for a farmhouse look?" Don't say "Which ones do you like?"


Don't look at too many options, it'll confuse you. Choose 5-6 and then ask your confidant which ones are their favorites. Then go off of those favorites and choose one. Don't look at every single option available. I'm actually the worst at this. My husband hates it too ha!! I will be scrolling websites all night long showing him things along the way and by the time I reach number 10 or 15, he's like "what was wrong with the other one you showed me?" I think there's something to his logic, so I started trying to do things that way and I really felt less stressed about making decisions.

Have a vibe in mind.

What do you want people to feel when they walk into your space? Cozy? Bright and airy? Colorful? Inspired? Clean? When you're looking through inspiration photos of all those farmhouse kitchen renovations on Pinterest, start to save things with your vibe in mind. Don't just save things you like. I mean, I love the idea of gold cabinet hardware, sink faucet and pendants, but that doesn't fit the vibe I wanted. It was too girly and not enough industrial for me. Love the look. Don't necessarily want to own the look. So start to get picky when it comes to inspiration photos. Check out my Pinterest here for some inspiration!

Don't always listen to contractor recommendations – especially when it comes to kitchen renovations. They're going to try to convince you to go the easiest route. Yes of course listen to their expertise, but also know what you want. If you want that herringbone tile, you go for it!! I really wanted a herringbone tile feature behind my stove and our contractor literally said "well we won't be doing that" … Um, excuse me? That's when the gloves came off and I fought for myself and for my dream farmhouse kitchen. Did it take them 2 hours longer than it would have originally? Yes. But that's a small price to pay for tile that's going to be here forever. Right? This is the exact tile we used from Home Depot

and it's still the best price I've seen anywhere!

Now this doesn't always 100% apply. If it's something that's safety related or function related, obviously listen to him. But you're still allowed to ask questions and propose other ideas.

If you have a load bearing wall that you want to take down, make sure you're ready for any outcome – beam, posts, ceiling falling, etc. Kidding about the last one but also kinda not.

The wall we wanted to take down was a load bearing wall because it used to be an exterior wall before the previous owners built on to the house. Our ceilings are already kind of low, which I didn't love and then they had to end up putting in a big steel beam which I also didn't love. It didn't give that open concept farmhouse kitchen look I was going for. Thank goodness, we already had cedar beams in other parts of the living room and dining room, so we just decided to wrap the steal beam in cedar and call it a day. It looks great now, but was not the original look I was going for. Just be prepared for anything!

Use Pinterest. Use it for inspiration, for tips, for tricks, for links to cheaper items, whatever it is!

Take it one step and one decision at a time. When it was time to choose the layout of my cabinets and appliances, I was ready for that, but I was also thinking about the hardware and the sink and the open shelving and where that was coming from and which countertops I wanted but couldn't find and blah blah blah. It was too much! I started to spiral into panic when I thought of all the decisions I had to make. Let me tell you, it was a lot. And it's always way more than you think.

Restoring real wood floors is an absolute B, but it's worth it when they're done. Just put your big girl pants on and do it.

Have them put in more outlets. You need more outlets everywhere. You don't realize you need them until you don't have them. We had a kitchen renovation nightmare where they didn't put any outlets on one entire wall. This is where I had planned to put a little lamp, a coffee grinder and more. It obviously didn't work and I had to have them come back to make the change right away.

Replacing your baseboards is one of the biggest unnecessary things to spend money on. Just paint them. Unless they're in horrendous shape, be patient and paint them.

A new front door with big windows can totally change the whole feel of your house. Curb appeal baby. Also allows in so much more natural light changing the feel of the space on the inside too. Here is the link to our exact front door

which I LOVE!! And

some similar ones here.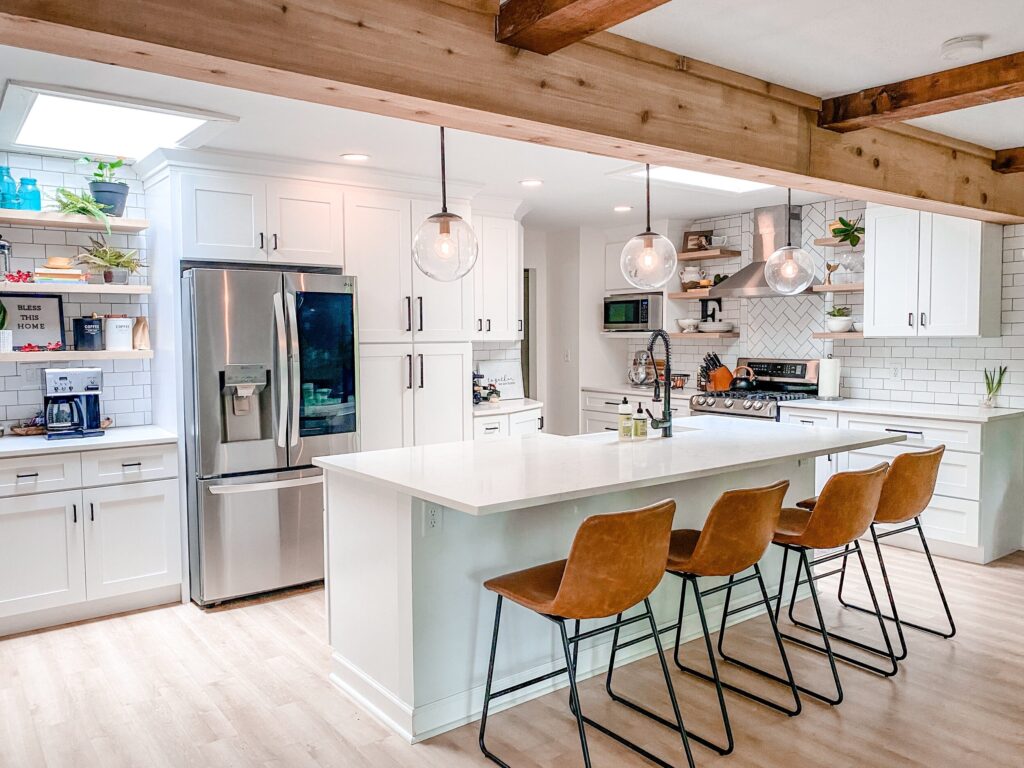 12. Just don't do the tile yourself. I promise, it's not worth it. The toilet, the vanity, the mirrors, the sinks, the floors even. All of that, you can do. Tile? No. Don't do it. Hire it out. They'll get it done in 1/100 of the time with 1/10 of the mess and 1/10000 of the arguing and huffing and puffing.
13. Things are more expensive than you think, especially if you're looking to get a dream farmhouse kitchen that you've seen on Pinterest. Things will always come up and things will be more expensive than you think so have a contingency budget.
14. Things will always always change. Go into it knowing that and you won't be as annoyed! You'll still be annoyed but not quite as annoyed.